Missing Teeth? You're Not Alone!
Mini dental implants are essentially small diameter titanium screws that replicate the structure and function of a natural tooth root. They are often used to hold removable dentures in place, but can also be used to replace a single missing tooth. In most cases, they can be placed during the same appointment as a tooth extraction. As a leading provider of mini dental implants in Menifee, CA, Dr. Jeremy Powers can help you decide on the right type of implant.

What are Mini Dental Implants?
Mini dental implants are small titanium screws that are implanted in the jaw bone. Over the course of a few months, the implants become fused with the jaw bone and cannot be removed without additional surgery. In many cases, a denture is attached to the implants for stability.
With full dental implants, several office visits are required to place the implants and attach the crowns and abutments over the course of several months. However, mini dental implants eliminate the need for a long recovery time and can be placed in a single visit. They also do not require bone grafting in most cases. The smaller size makes them easier to place and requires less healing time. As a result, they can be set in place during the same appointment as a tooth extraction. Dentures or single crowns can be attached to the implants on the same day as well.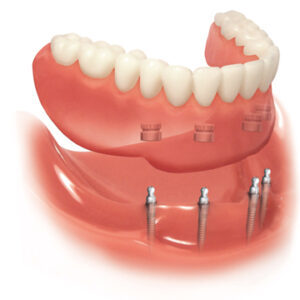 How are mini dental implants placed?
The placement of mini dental implants is designed to be as quick and easy as possible. Dr. Powers will first administer a local anesthetic to reduce pain and discomfort. Then, an extremely precise surgical method is used to set the mini dental implants in their exact locations. In contrast to a full implant procedure, this is a simple one step treatment that requires no sutures or long healing periods.
If you are in need of a tooth extraction and therefore tooth replacement, mini dental implants may be the solution for you. To learn more about mini dental implants in Menifee, CA, contact Dr. Powers and schedule your consultation today!
This is my uncle, David R. Powers DDS, explaining all about mini implants in a 30 minute interview.
Why Mini Dental Implants?
Permanent Tooth Restoration
Ability to Eat and Speak Without Loose Dentures
No More Embarrassing Gaps In Your Smile!
Saves Bone and Surrounding Teeth
No Need for Fixed or Removable Appliances
Renewed Confidence in Your Appearance
Mini Dental Implants are 5 times LESS:
Less Invasive
Less Painful
Less Healing
Less Visits to the Dentist
Less Expensive than traditional Implants
**Note the phone number and website on the video are not in service.
Contact us today at (951) 679-1661 to learn more about our mini dental implant services in Menifee.
This is my uncle David Powers, DDS placing his own mini dental implant on himself to prove how simple the procedure is for the patient.