Opalescence® Boost Teeth Whitening in Menifee, CA
Opalescence is a professional teeth whitener that offers professional results. Safe and effective, Opalescence has been the leader in whitening for over 25 years!  Come in and experience the amazing new generation of Opalescence® Boost Teeth Whitening or use our custom, at home pro-system in the comfort of your own home. Formulated to limit post treatment sensitivity. You can expect the best results from our professional dental tooth whitening system.
Click here for more information on Teeth Whitening in Menifee.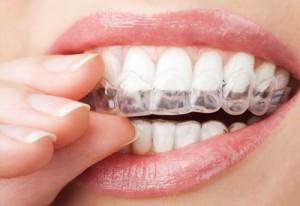 Which Type of Whitening is Best?
There are many ways to whiten your teeth, including toothpastes, over the counter gels, rinses, strips, and trays. However, to get the best and fastest results for this cosmetic dentistry procedure, make an appointment to see your doctor. Teeth whitening by dentists is the safest and most sure way to see immediate results. Some procedures are done in office and some are performed at home. Make an appointment today to see which type of teeth whitening by dentists is the best for you!
Tray Based Tooth Whiteners
Tray based tooth whiteners involve custom made trays, similar to a mouth guard, that are made at your dental office. The trays are filled with a whitening solution, which generally contains a peroxide bleaching agent. The trays are usually worn for a specified period each day for a certain length of time. Depending upon the strength of the whitening material dispensed, you may be asked to wear them from 15 minutes to overnight, and from three days to up to two weeks. Treatment length depends on the degree of discoloration of the teeth and the desired level of whitening. This cosmetic dentistry whitening procedure can be done at home and requires no additional appointments or procedures.
In Office Whitening
In office teeth whitening by dentists offers the fastest way to whiten teeth and is a very popular cosmetic dentistry procedure. It requires at least one visit to the dental office to have the procedure performed. Multiple visits may be required to reach the desired results. Each visit usually lasts one to two hours. During the procedure, the whitening agent is applied directly to the teeth. Usually, the whitening agent is used in combination with a special light or laser which speeds up the whitening process. Dramatic results are often seen right away!
At Home Whitening vs. Teeth Whitening by Dentists
While the many teeth whitening products available at your local pharmacy offer a certain degree of convenience, they are not likely to offer you the results that you are hoping to achieve. In order to see whiter teeth quickly, it may be necessary to see your dentist and discuss your options. There are big differences in the products that you can buy at the store and teeth whitening by dentists, including:
1. Strength of bleaching agent: Over the counter and dentist supervised at home products usually contain a lower strength bleaching agent. Usually, these products will have only 10 percent to 25 percent carbamide peroxide, which is the whitening agent, compared to 15 percent to 43 percent carbamide peroxide in whitening products professionally applied at the dental office.
2. Ill-fitting mouthpiece trays: Dentist supervised at home whitening trays are fabricated using an impression of your mouth. Each tray is custom made to fit your mouth exactly. This customization allows the whitening gel maximum contact with your teeth. However, over the counter tray whiteners use a "one size fits all" approach. The trays are not designed to fit your mouth exactly. Too large or too small of a tray can cause gum and soft tissue irritation and the whitening gels may not whiten teeth evenly.
3. Additional Protective Measures: Some whitening products can be irritating to the gums and soft tissues. At home whitening treatments do not take measures to protect these tissues from irritation. When you chose teeth whitening by dentists, we will apply protective gels to the gums and soft tissues or use a special shield to protect your mouth from the effects of bleaching.
4. Best Treatment Plan: Over the counter whitening treatments are not designed to work for your specific needs. In a dental office, your dentist will perform a complete oral exam to determine if whitening is the best course of action for your cosmetic dentistry goals and which type of whitening treatment will best fix the discoloration of your teeth.
It is important to understand that fillings or crowns that show when you smile will not lighten with whitening treatment. Only the tooth surfaces will improve in color. Your dentist can let you know if any fillings, crowns, or other previous dental treatment may need to be changed to match your new shade following your cosmetic dentistry whitening treatment.